About our Hotel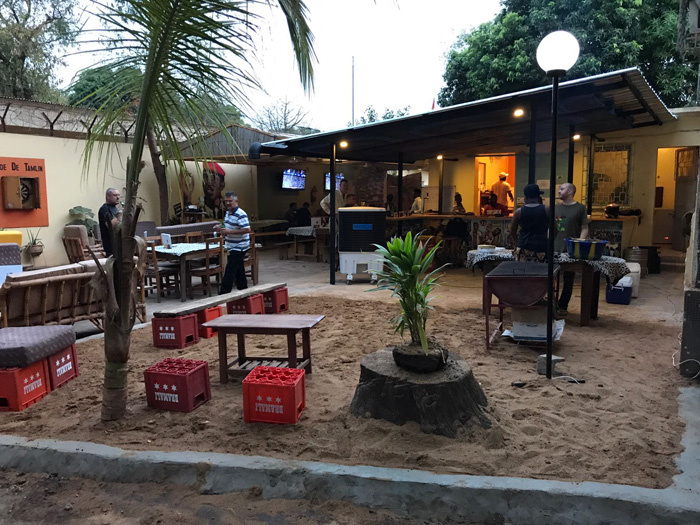 For reservations – Call Us on +223 781 75365.
The Sleeping Camel Hotel in Bamako is the perfect place to get your bearings before embarking on further travel in West Africa. It is also a great place to chill out for a while and recharge your batteries. With our hotels fully stocked bar and Chef Djenebas amazing food we are your home away from home in the West. The hotel is located in Badalabougou and it is only a 10 minute walk into the heart of Bamako. We are situated between the German Embassy and the Ambassador for Senegal's official residence so our security is excellent. Our hotel staff make the difference so please feel free to check out trip advisor and see what other travellers have to say about our hotel. Also check out our facebook page for an update on what is happening at The Sleeping Camel Hotel, Bamako and Mali as a whole.
Whist you are in Bamako, the staff at The Sleeping Camel Hotel will always assist you and together we offer a number of services to ensure your stay is both relaxing and rewarding. We aspire for our hotel to be your base of adventure in West Africa and a friendly place to unwind after exploring this wonderful part of Africa. We have travelled extensively in Africa and as such, the lessons learned in our past experiences have enabled us to develop our hotel so it is somewhere we would have enjoyed staying when we were wandering the continent.
Ask at the hotel reception or via email and we can assist you in a vast variety of ways: Translation Services – Bamako City Tours – Music lessons – Vehicle Hire – Language Courses – Canoe trips – English and French-speaking staff – Free WiFi Hotspot for guests – Laundry Service – 24 hour check in and security – Advice on travel in West Africa – Advice on finding the best live music in Bamako – Very safe area – Airport Transfers.
Testimonials
This is a great hotel in Bamako. Matt and his crew were awesome, helpful, knowledgeable and fun. They can help you with your trip in Mali and beyond. Can't recommend it enough.Eric Graves - Ester, Alaska